This is a Sponsored post written by me on behalf of Whitney Farms for SocialSpark. All opinions are 100% mine.
As usual, I am very excited to get our vegetable and flower gardens started next weekend. My husband will be tilling the soil where the garden is located in the backyard one of these days so we can start planning on what vegetables to plant. Tilling the soil is a good way to do so the dirt will hold water and moisture at a good rate.
The reasons why we like having a vegetable garden is that:
1. we would like to, at least, save money commonly used veggies like tomatoes and bell peppers
2. we like fresh veggies
3. like any other hobbies, we enjoy gardening so much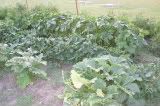 What worry us now is the heat. We heard that it's gonna be drought again so we want our garden to be well taken care of as much as possible. We do not want to spend lots of money on fertilizers. So the idea of using organic plant food would be great. Eventually, Whitney Farms® has the improved products that will help our garden vegetables become more productive.
With the help of the organically developed plant food, it will provide the organic soil to become healthy so our plants are well-nourished too. It will benefit vegetable gardeners like us harvest organic produce for our daily needs. We would love to try Whitney Farms® organic plant food.
How about you? Have you started gardening yet? Try and get $ 3.00 coupon from Whitney Farms®.